I thought some of our friends outside Victoria might like to see some pictures of the damage done by vandalism to our church property last Friday evening, Oct 2.
This photo is the worst of the damage – our  completely destroyed storage shed: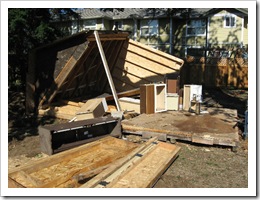 More photos are posted here, at our church site.
The damage could have been much worse. We thank the Lord for His protection in this incident. No one was hurt and really, the damage was very minor.
And in the meantime, we had great services this weekend with significant spiritual victories happening in lives. That is the main thing in all of these distresses. And Thanksgiving is next Monday! So Praise the Lord!