This is my sister.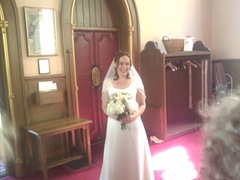 When we began our ministry in Victoria, she had just graduated from University. She took a job here in order to help us in our church. We had a handful of people. She came, not knowing how the Lord would lead, but she came knowing that the chances of finding an eligible Christian man might be slim.
That was 24 years ago.
Well, last year, the Lord brought a single Christian man to our church … about her age … like her, never married.
When I first talked to this fellow on the phone, I wondered what the Lord might have in store. And this was it: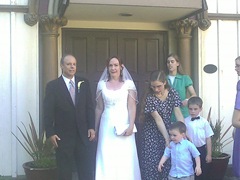 Last Saturday, I had the privilege of conducting the ceremony, my brother preached the sermon, and my sister got married to one of our deacons.
(That's some of the nieces and nephews in the picture also.)
We've been a little busy with all this, but all the guests have gone home now. Things are subsiding back to normal. I am so grateful to the Lord for bringing this marriage about.
Proverbs 10:22 The blessing of the LORD, it maketh rich, and he addeth no sorrow with it.