Our family had a little milestone on Saturday. My daughter bought her first car! We're all pleased and she is quite excited. Here it is: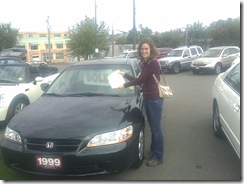 I took the picture just after she bought the car. A 1999 Honda Accord, one owner, low miles, mint condition.
We live in such an automobile oriented society, the day you get  your first car is a real milestone for almost everyone, I think. My first car still lingers in my memory, truly loved, though it was a real lemon. I bought a 1972 Dodge Charger in 1977. It only had about 57000 miles on it, as I recall, about the same as my daughter's Honda. Except… my previous owner was in a different demographic! Those 57,000 miles were hard miles. Several serious issues emerged as I began to get to know the car. We traded it for a 1977 Plymouth Fury after only six months or so.
But it could fly! Memories…
So far we have helped two of our young people with these milestone purchases. Neither of them have ended up with such an impulsive buy as my first, but this one was much more deliberative. My wife went with my daughter on the shopping expeditions. They narrowed it down to a few, then had one of our men go with them to whittle it down to one. The next day, I went along, but I sent my wife in to do the negotiation. I figure that I don't get blamed for anything this way! They ended up with the price I predicted before the horse trading started.
Now our family can have something else to remember Sept 11 by.