I was once at a meeting with Dr. Bob III where I introduced myself this way:
"My name is Don…
"I am a blogger…"
This was due to Dr. Bob's noted antipathy for blogs.
My wife has typically shared his view and can't imagine what I find so compelling about my blog. Until today! She found a use for 'blog'…
She scored 38 points with it AGAINST ME in Scrabble tonight! The Nerve!!!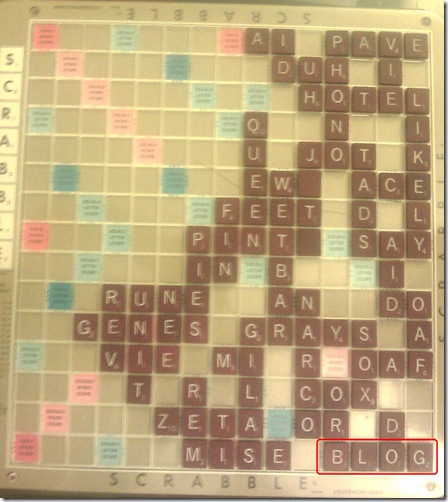 I still won, though… I got most of the good letters, and we really boxed ourselves in, couldn't get into the upper left quadrant at all.
For those scoring at home, she stuck blog on underneath OR to make ORB, the DO came later.
It was a great way to spend a Sunday evening. My wife made a tremendous effort with mostly vowels the whole night. She tends to be a better positional player than me, I'm always looking for the big plays, especially the seven letter words.