Today we lost our dog after a long life for his breed… normal life expectancy about 9, he made it to 14. The last few months he turned very frail, eating sporadically, the last day or so not at all. Last night and today he was so weak he could barely stand – and he struggled to stand because he had to cough, fighting against fluid building up in his longs. It was obvious to us all that things would not get better so today we made a visit to the vet – the little guy's final visit.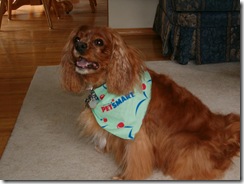 We know that a dog is just a dog, but we can't help but think this end is not the way God intended things to be.
NAU  Romans 8:20-22 For the creation was subjected to futility, not willingly, but because of Him who subjected it, in hope 21 that the creation itself also will be set free from its slavery to corruption into the freedom of the glory of the children of God. 22 For we know that the whole creation groans and suffers the pains of childbirth together until now.
I think this is among the reasons we grieve for the loss of 'just a dog'. There is of course the end of a loving relationship between man and dog, something different from human relationships, but like them. But there is also this… that the creation in which we live is broken and awaits restoration and repair in the day when the Master sets all things right.
We don't expect to see our dog in the resurrection. He had no spirit as men have. We do expect to see the setting right of all things.
In the meantime, we remember the delight we enjoyed in our crazy, lovable, gentle Cavalier King Charles Spaniel. His official name was Kentanna London Bobby. He was affectionately known to us by various terms, including "Dumb Dog". He wasn't the sharpest knife in the drawer, but he always looked good, no matter what he was about.
Here is a picture from his first visit to the vet: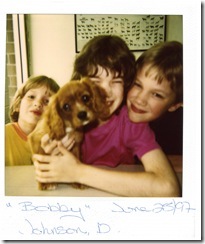 The kids in that picture are now 25, 21, and 19.
And one more picture, coming home from family camp some years back.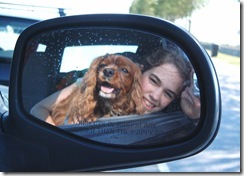 If you look closely at that picture, you will see the lettering from my truck mirror: "OBJECTS IN MIRROR ARE CLOSER THAN THEY APPEAR". Indeed they were.
Kentanna London Bobby
Cavalier King Charles Spaniel
March 25, 1997 – October 14, 2011.
Just a dog.